Jurassic World: Dominion Dominates Fandom Wikis - The Loop
Play Sound
2xwings has various acts, but they also have created sub-units. They are members created from the same or different groups, and each group has its own unique theme.
They don't release content as often due to it being a sub-unit; they have many digital releases instead.
They only perform together during concerts where all acts are present.
Puri♡Kuri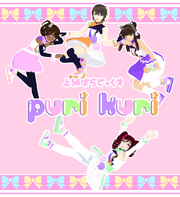 Puri♡Kuri (プリ♡クリ; PK) is one of the first sub-units to be formed, and are the only sub-unit to have all members from the same group (Uta Shoujo). Their theme is described as "KiraKira cute". Their name comes from Purikura, which is known for its cute photos. They often wear fluffy outfits with bows and frills to show off their cute side.
Their songs are usually pop or EDM. They each have an animal associated with them as well, and they will wear animal ears and tails to concerts often.
They are the current Oha Girl group with each girl representing a weekday. Friday has a special guest which is a random member under the 2xWings company. They talk about a special animal to follow PK's animal theme and as well as to show uncommon or endangered species on TV.
Their group color is Light Green.
Members
Discography
[2017.05.10] "Saijōkyū Paradokkusu" (最上級ぱらどっくす; The Biggest Paradox)
[2020.02.24] "Hashire! Getsu Ka Sui Moku Kinyoubi!" (走れ!月火水木金曜日!; Run! Weekdays!)
Akushi
Akushi (悪使; Evil spirit/Villain) is one of the first sub-units to be formed. They are a trio of members from Uta Shoujo and STARGAZER. Their overarching theme is devils/demons and angels, with their member roles relating to that. The name Akushi comes from Akuma (悪魔; Devil) and Tenshi (天使; Angel). They have a gothic /punk lolita aesthetic, and are often associated with roses. Their music style tends to be rock and metal.
Their group color is Dark Purple.
Members
Discography
[2017.03.26] "KARATE"
SiNDER
SiNDER is one of the first sub-units to be formed. Their theme is "taboo" topics and empowerment. They wish to bring an end to many taboos and normalize certain aspects of life that are still shunned today. They are polite and respectful to each topic they cover.
Their group color is Navy.
Members
Discography
[2017.10.15] Orchestra (オーケストラ)
[2020.11.30] Doctor
MYWAY
MYWAY is a sub-unit formed with the purpose of promoting in Korea and Japan. They are the first co-ed sub-unit. Their primary promotions are them performing as a rock band, but they do regular performances as well. Their theme tends to focus on RPG games and they each represent a typical RPG class.
MYWAY's cover of "Gurenge" garnered a lot of attention to the point that they released the song as a single.
Their group color is Atomic Tangerine.
Members
Discography
PRESS START / How Can I Say

Role-Playing Game / Death Should Not Have Taken Thee!

Deja Vu / Gurenge
UmeMako
UmeMako is the first sub-unit formed for kenshuusei. Their purpose is to teach the other KSS members what real work as an idol is, but also to bring joy to people with their songs. The songs they perform are often from anime.
Their group color is Sky Blue.
Members